Myth #1: Dansko only makes clogs.
Dansko is of course known for supportive clogs that have been loved by healthcare professionals, teachers, and chefs for over 20 years, but over the past decade Dansko has greatly expanded its base to build sandals, wedges, heels, flats, boots, and even hiking shoes that offer similar levels of support and comfort to their legendary clogs. All you need to do is check out current styles such as the Odessa (below left), Olivia, Sabrina (below right), and best-selling Sophie to see that Dansko has successfully grown beyond its cloggy beginnings and into a multifaceted healthy shoe company with a little something for everyone.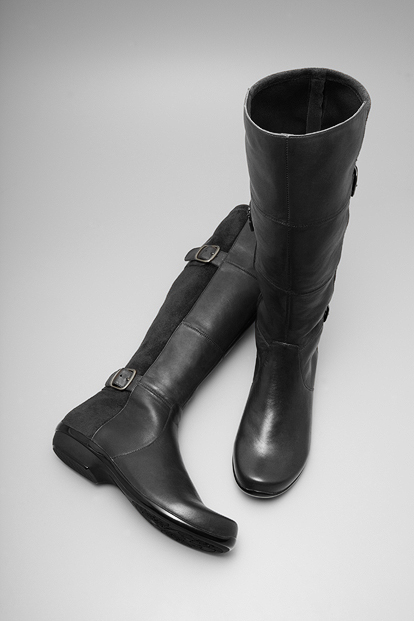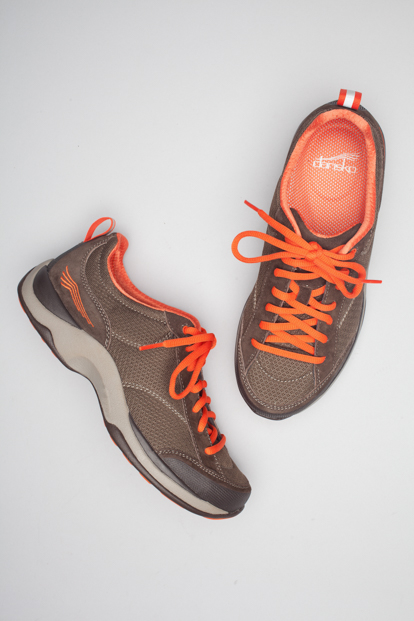 Myth #2: Dansko shoes are clunky and heavy.
Well, for those of you who have embraced the normcore movement, you may fully appreciate how wonderful supportive yet clunky shoes can be.
But I am fully aware that normcore has its limits, so I'll offer you the following…
Yes, the classic Dansko Professional clogs are built with a very durable and supportive sole that can seem stiffer than other shoes in your closet, however due to the extremely durable nature of the sole material, Dansko clogs are able to maintain continuous levels of support over the life of the shoes. Many other mass market shoes that use overly-spongy foams under the feet break down relatively quickly, and when this happens you lose support. Of course, as noted in myth #1, Dansko has developed dozens of styles recently that use softer, lighter, and more flexible materials underfoot than their Professional clogs. These new designs, such as the Allison, the Elise, and the Jovie, use durable, supportive materials that are much lighter and more flexible than what you might expect. It is with these designs that Dansko has put to bed the notion that they make only clunky and heavy shoes.
Myth #3: I have a Dansko clog, and I would like to try a different style. I should be the same size in my new style, right?
Not necessarily. Like most shoe companies, Dansko produces some of their shoes on different lasts (the form that shoes are built on) which can affect sizing. Some Dansko shoes also feature hand-made elements, and this of course can affect sizing as well. One of our most popular Dansko lines, the Pro XP clogs, run about a half size larger than their counterpart Professional clogs. Our best advice here is to contact our experts at 1-800-336-6657 if you have sizing questions or to visit one of our stores and try them on for yourself.
Myth #4: Dansko only makes shoes for women.
Dansko offers a line of clogs and other work-style shoes for men that offer great all-day support and durability. The Walker is one of our best-selling models, and it even outsells many women's styles. Think guys don't wear clogs? Well, thousands of chefs, doctors, teachers, and other professionals may disagree with you. I actually own two pairs of Pro XPs myself, and they are some of the most supportive, comfortable shoes that I have worn. So, gentlemen, are you man enough to take on a Dansko clog?!
Myth #5: Dansko is just another big shoe conglomerate owned by some far-off unseen entity.
Dansko is very much a home-grown American success story. Pennsylvania-based husband and wife team Peter Kjellerup and Mandy Cabot formed Dansko 23 years ago after visiting Europe and falling in love with European clog designs. Dansko has grown to currently employ about 180 people in its Pennsylvania headquarters and warehouse. In 2012, the company proudly announced that they had become 100% employee-owned, and Mandy has served as CEO for many years. What's more, Dansko has been a leader in environmental sustainability as well. Both its headquarters building and warehouse are LEED Gold Certified.
If you would like to inquire further about Dansko shoes, please call our customer service experts at 1-800-336-6657 or visit one of our 10 stores.
The level of love for Birkenstocks has risen to new heights in 2014. They have been rediscovered by the fashion world, and sales are off the charts at upscale and healthy shoe retailers around the country. So, this week I figured that I would be quiet for once and share what others have had to say recently about this iconic brand…
"So, what's so special about Birkenstocks? The German orthopedic sandals embody the rare and sought after combination of comfortable and chic. They provide the support needed for a long day of walking, but their simple style and variety of colors pair nicely with anything from a sundress to a pair of ripped boyfriend jeans. There are almost no rules when it comes to Birkenstocks; wear them to the beach with a sundress and bikini, pair them with some ripped boyfriend jeans and a leather jacket to grab a cup of coffee, or slip them on over cozy wool socks, throw on a chunky sweater and you've got yourself the perfect lazy Sunday outfit." – thefashioncoverage.com, 10/19/14
"New Yorkers are sure putting the 'stock' in Birkenstock. Long beloved by the granola-munching Bay Area set, the practical German sandal brand has enjoyed a steadily building surge in popularity on the Hudson ever since Céline showed a fur-lined version at its spring 2013 show." – NY Times On the Runway Blog, 8/14/14
"'We've photographed them a ton—with boyfriend jeans, Chanel tweeds, and black work dresses—for the past six months,' says Eva Chen, editor-in-chief of the shopping magazine Lucky, who double-checks each issue to make sure Birks don't appear more than once. 'The last seven years in fashion have been all about the statement shoe, a beautiful, spindly heel that's not comfortable.' The antidote, it turns out, is buckled and cushioned…" – Bloomberg Businessweek, 7/26/14
"This summer's sole heir to the footwear throne is, without doubt, the flat sandal. Be it pool slider, strappy, jelly or gladiator, the once considered 'lowly' alternative to the much celebrated heel is now at the cornerstone of every summer outfit. And we're not just talking in the day time, at a festival or at the beach. The flat sandal is now a very real fashion choice for date night, dinner with the girls and, hallelujah, for long sessions on the dance floor." – Glamour, 6/2/14
"It appears all those normcorers were on to something. Birkenstocks' contoured footbed actually creates a healthy walking environment for your feet. And the metallic finish on these is anything but granola-y." - Bustle.com, 5/30/14
"This spring, thanks to their everlasting comfort, and the breezy, carefree attitude of the runways, Birkenstocks are bigger than ever. The brand hit the New York runways with Trina Turk and Houghton, and collaborated with the king of Japanese cool, Yohji Yamamoto.  The cool kids, Isabel Marant and Riccardo Tisci, appropriated the classic style into their own versions. Whether original, or inspired, the sandal is now a bona fide Instagram star: hashtag #birkenstocks or #birkies, for short." – Fashion, 4/29/14
"'That silhouette was universally considered ugly,' says Vogue.com contributor Katherine Bernard. 'But Phoebe Philo's luxe reinterpretation of a Birkenstock got me thinking. It's like the most comfortable sandal in the world is having a stylish renaissance.' With its squishy cork footbed, roomy toe box, and thick buckled straps, the sturdy, sensible sole has been embraced by others besides Bernard. In fact, fashion editors in these very hallways have been bringing their secret love of the jolie-laide shoe into the light of day. 'I've been wearing them around the house forever, but recently I've taken fancier versions out into the world, too,' says Associate Accessories Editor Jorden Bickham. 'When my husband sees them, he says I'm lucky that we're already married, but honestly I think it's so much more sexy to be slightly underdressed, like you're not trying too hard.'" – Vogue, 7/29/13
…All of this being said, I fell for Birkenstocks again last year after a long (and painful) bout of plantar fasciitis. So, for now I'll stick to my high arch Birkenstock Bostons, because they give me all-day support, are super durable, and look good with a pair of jeans. For me, Birkenstocks are an old friend that eagerly awaits a trip to the office or a long walk at night, and I know that this friend will stick around with me long after the glare of the fashion world flashbulb has dimmed.
by: Matt LaBarge, 11/6/14
Interesting Birkenstock Fact:
Birkenstock Madrid Sandals – The original that started it all. Known as the Birkenstock Fitness Sandal in Europe, this design tones the foot and calf muscles while improving circulation. This timeless one strap features the famous Birkenstock contoured footbed, fully adjustable strap and shock absorbing EVA sole.
Not to mention when you purchase them online not only do you get $10.00 Off your getting FREE SHIPPING as well, you can't beat it!!!
Come visit us in store to take advantage of these great deals.  Need new Orthotics?  Well it's time to pick some up at $10 off and you just can't go wrong grabbing some Kenkoh Massage Sandals with $10 off as well.  You may not see this price again so may as well go ahead and grab em while it lasts.
Interesting Kenkoh Info:
Kenkoh Massage Insole
The heart of the Kenkoh Health Sandal is the massage insole.
The massage insole stimulates areas of the sole of the foot which correspond to all the glands, organs and parts of the body. The rubber (latex) insole nodules act like tiny fingers, applying pressure to the sole of the foot. As in Shiatsu and Reflexology healing techniques, the Kenkoh Health Sandal massages the feet when you walk, stand or sit with even light pressure on the sole.
It has been known for thousands of years that stimulating the individual Reflexology Zones on the sole contributes to the health of organs and muscles. Shiatsu therapists massage the soles of the feet in order to stimulate the body's energy flow and rebalance the body.
When various reflex points are stimulated they induce a healing response. Standing on the Kenkoh Health Sandal creates a feeling much like that felt during a Reflexology massage session. Key nerve endings are stimulated which energizes organs, body functions and blood flow. Walking in the Kenkoh Health Sandals creates a rhythmic pressure on the soles of the feet similar to the rhythmic massage of a skilled Shiatsu therapist.
The research study conducted by the Kyoto University Graduate School of Medicine has provided modern scientific evidence of the health benefits of the Kenkoh Health Sandals.
Celebration starts April 18, 2013 and ends on April 28, 2013.  Come in to a local store to take advantage of this great offer and "Walk the Earth with Happy Feet!"
Also don't forget our stores are also still running the Select 2 of any style, any size any brand and get $20 off until April 21, 2013.  So hurry up and get inside for your 2 pair deal!
Interesting Birkenstock Fact: 1996: Birkenstock USA celebrates its 30th anniversary. Birkenstock offers almost 300 style/color combinations, and the footwear is distributed to millions of people throughout the United States.

Every Shoe, Sandal, Clog and Orthotic is on sale! Save $10-$20-$30 NOW on virtually everything in our stores, but only at one of our 9 Florida retail locations.
Hurry in today. The sale ends November 18.
While at Happy Feet Plus stores ask for a FREE digital foot analysis. The analysis identifies "hot" spots on the soles of your feet and helps the Healthy Footwear Specialist select footwear to help you feel better.
End of Summer Savings on 7 Papillio Sandals
Wow! Seven special sandals from Papillio, by Birkenstock, discounted $10 or $20.
If you're familiar with Papillio you know that their styles are mostly seasonal and produced with limited quantities. These seven sandals are available for immediate shipment and quantities are diminishing. Get yours today and save on some very cool sandals with the famous Papillio cork and latex footbed.
Only 4 more days to Save $10 on Birkenstock Mayari & Granada Birko-Flor or Birkibuc Sandals
You have until Thursday night to save $10 on the purchase of Birkenstock Mayari and Granada Birko-Flor or Birkibuc sandals. That means, for only $69.99 you can own a classic Birkenstock that fits your taste. With so many sweet colors to choose from you're sure to find one, and maybe more, that you'll love to own. As always, shipping is FREE at Happy Feet Plus.
Don't delay. This sale will disappear soon.
Who better to comment on the quality and comfort of Finn Comfort footwear than our loyal customers?
Here are just a few of the hundreds of happy customers who have taken time to supply us with comments about Finn Comfort footwear. We really appreciate the positive feedback not only about our website and our customer service, but especially about the products we represent.
Right now we are featuring all of our Finn Comfort products – boots, shoes, sandals, clogs and footbeds – at great savings.
Click Here to view all of our Finn Comfort items. Enjoy the savings!
CUSTOMER COMMENTS:
Several year ago I suffered with plantar faciitis. After cortizone injections offered no relief, I turned to FC sandals (Orb). To my amazement w/in a month or so I felt 95% better. Just recently, I started having issues with pain in the ball of my foot. Once again I have turned to FC. As long as I have them on, I experience NO PAIN. I am certain it will be a matter of time and my problem will be 100% alleviated. True they are expensive, but hands down it is a far less expensive course than surgery!
The name says it all. I had foot surgery soon after receiving my order. I'm in my second week of recovery and these shoes (Jamaica) offer unforgettable comfort, on both feet.
Have worn this style (Vaasa) for over 30 years and still love it!
Fit was perfect. I like being able to adjust the straps when my feet swell. Sizing was accurate. I found the shoe (Jamiaca) I was looking for very easily. Check out was easy as well. The price was better than any other website.
Your website is by far the best source for Finn Comfort shoes! I have been wearing Finn Comfort Shoes for over 20 years. Nothing else compares. Size 46 always fits from the first day. As a bonus your prices are the lowest available.
This is the most comfortable pair of shoes (Vaasa) I have ever had. I feel I can walk fore ever in these shoes and I have. No other shoe comes close for a everyday shoe, Don't miss this one.
This is my sixth pair of Finns (Jamaica). They are one of the few shoes that will fit my high arch and let me adjust the pressure across my bunions. Thank you for carrying this brand.
I like these shoes (Orb) very much. In three weeks my plantar fasciitis has improved dramatically- one foot is nearly back to normal and the other is about 75% better. I plan to buy Finn shoes for most all of my needs in the future. Fit is good, but I am between 38 and 39- 38 just barely long enough with thin socks; 39 a little big without thicker socks- so I went with the 38 and thin socks.