On April 19, 1985, Happy Feet Plus founders Jacob Wurtz and Jane Strong officially opened for business with a kiosk in the Tyrone Square Mall in St. Pete.
Thirty years, ten stores, and a national eCommerce business later, Happy Feet Plus moves into its fourth decade of improving lives through healthy footwear.
This week, as we celebrate our 30th anniversary, let's jump into the DeLorean and take a little trip back to the world of 1985…
Major news stories 1985:
- The location of the Titanic wreck is found by a joint American/French expedition in the North Atlantic.
- Mikhail Gorbachev replaces Konstantin Chernenko as Soviet leader.
- The Live Aid concerts raise over $50 million for Ethiopian famine relief.
- Coca-Cola releases New Coke to replace their old formula. It sells very poorly for a few months and is promptly replaced by Coke Classic.
- The Vienna Conference becomes the first international meeting about ozone layer depletion.
Notable Movies of 1985:
- Back to the Future
- Out of Africa
- Rambo: First Blood Part II
- The Color Purple
- Rocky IV
Notable #1 Billboard Hits of 1985:
- Saving All My Love for You – Whitney Houston
- Take On Me – A-Ha
- The Power of Love – Huey Lewis & the News
- Don't You (Forget About Me) – Simple Minds
- Money for Nothing – Dire Straits
Notable Popular TV Shows of 1985:
- The Cosby Show
- Family Ties
- Murder, She Wrote
- 60 Minutes
- Cheers
Popular Toys in 1985:
- Cabbage Patch Kids
- Transformers
- Pillow People
- Pogo Ball
- Teddy Ruxpin
Does this all make you feel a little older? A little younger? Age aside, as the above lists demonstrate, 30 years is a long stretch and, frankly, a long time for a company to last in today's ever-changing economy. We believe that our longevity at Happy Feet Plus is due to our unwavering commitment to improving lives through healthier footwear. Whether you weren't yet born in 1985 or you were celebrating the birth of a grandchild that year, the message of better health and improving lives resonates across every generation.
Here's to another 30 years! See you in 2045!
By: Matt LaBarge, 4/16/15
This past week our Merchandise Manager and I attended the Atlanta Shoe Show, one of the largest shoe buying conventions in the country. Many buyers will tell you that early spring and late summer are their favorite (and also most nerve-wracking) times of the year in the business, because these shows allow us to review/refine orders that we've already placed (in this case for fall 2015) and at the same time continue our never ending search for the next big brand in our lineup.
Here are a few trends/highlights from last week's show:
Trending Now: Women's low boots: Low boots (boots that are no more than about 6"-7" in height) are very hot right now across the industry, with their popularity aided in part by their chic look when worn with tights or skinny jeans. For fall 2015, look for high quality leathers to be used in many low boots along with super-soft luxurious linings. What impressed us most was the wide selection of low boots for fall that included some kind of solid medial and metatarsal arch support, often provided by high quality cork and leather footbeds. Birkenstock, our top-selling brand, is even jumping into the mix, with four new low to mid-height boots for fall that feature the classic Birkenstock cork footbed, and we couldn't be more excited.  This coming fall will see the largest selection of high-quality, supportive boots that we've ever offered in our stores and online.
Hot Brand: Think!: Founded in central Europe in the mid-1960's, Think! Shoes follows the simple philosophy that healthy shoes don't have to be ugly, and Think! takes the concept a step further to design many of their healthy shoes as art for the feet. What truly sets Think! apart from the crowd are their smart combinations of supportive, cork-based footbeds fused with eye-catching colors, patterns, and adornments. This spring will see the launch of Think! at Happy Feet Plus, as we offer seven styles, one of which, the Mizzi black, is pictured below. And from what we saw for fall '15, we believe that Think! has a bright future at Happy Feet Plus.

For the guys: Dress shoes with support: When is the last time you found a good looking men's dress shoe with a footbed that offered as much support as something custom-made for less than $150? Anyone….? We thought so. Let's face it, attractive and supportive are two terms that mix about as well as oil and water when it comes to men's dress shoes. That's why we were so pleased to find that Vionic has begun to offer a line of classic, stylish men's dress shoes that come with a very supportive and removable insole. The result (for just under $150) is an extremely well-built shoe that you can wear all day without killing your feet. These Vionic men's dress shoes will be available at Happy Feet Plus stores and online at happyfeet.com within the next six months.
Sure, there are a ton of great looking shoes out there that offer about as much support as a deflated pancake, and when we're at the Atlanta show it sometimes becomes all too easy to get drawn in by looks over substance. All we have to do, however, to regain our senses and remember our company mission to offer the finest healthy footwear is to look to brands like Birkenstock, Think!, and Vionic. These brands have kept their focus on producing shoes that are better for your body, and many of their styles just happen to be pretty darn attractive, too.
By: Matt LaBarge, 2/17/15
Myth #1: Dansko only makes clogs.
Dansko is of course known for supportive clogs that have been loved by healthcare professionals, teachers, and chefs for over 20 years, but over the past decade Dansko has greatly expanded its base to build sandals, wedges, heels, flats, boots, and even hiking shoes that offer similar levels of support and comfort to their legendary clogs. All you need to do is check out current styles such as the Odessa (below left), Olivia, Sabrina (below right), and best-selling Sophie to see that Dansko has successfully grown beyond its cloggy beginnings and into a multifaceted healthy shoe company with a little something for everyone.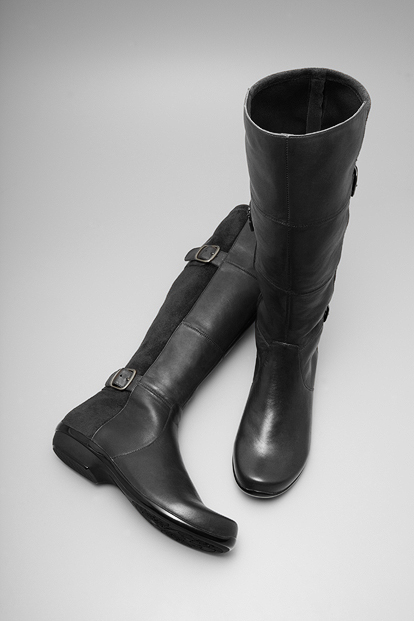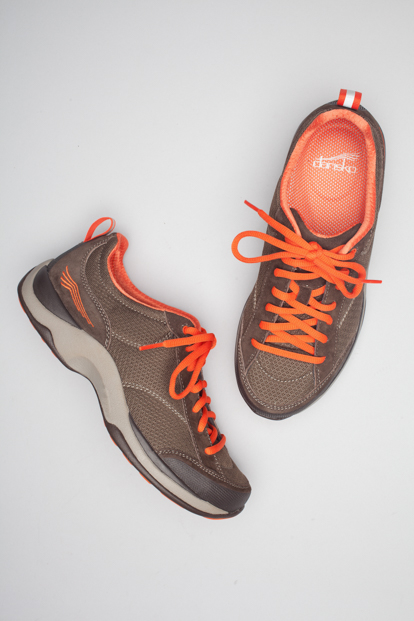 Myth #2: Dansko shoes are clunky and heavy.
Well, for those of you who have embraced the normcore movement, you may fully appreciate how wonderful supportive yet clunky shoes can be.
But I am fully aware that normcore has its limits, so I'll offer you the following…
Yes, the classic Dansko Professional clogs are built with a very durable and supportive sole that can seem stiffer than other shoes in your closet, however due to the extremely durable nature of the sole material, Dansko clogs are able to maintain continuous levels of support over the life of the shoes. Many other mass market shoes that use overly-spongy foams under the feet break down relatively quickly, and when this happens you lose support. Of course, as noted in myth #1, Dansko has developed dozens of styles recently that use softer, lighter, and more flexible materials underfoot than their Professional clogs. These new designs, such as the Allison, the Elise, and the Jovie, use durable, supportive materials that are much lighter and more flexible than what you might expect. It is with these designs that Dansko has put to bed the notion that they make only clunky and heavy shoes.
Myth #3: I have a Dansko clog, and I would like to try a different style. I should be the same size in my new style, right?
Not necessarily. Like most shoe companies, Dansko produces some of their shoes on different lasts (the form that shoes are built on) which can affect sizing. Some Dansko shoes also feature hand-made elements, and this of course can affect sizing as well. One of our most popular Dansko lines, the Pro XP clogs, run about a half size larger than their counterpart Professional clogs. Our best advice here is to contact our experts at 1-800-336-6657 if you have sizing questions or to visit one of our stores and try them on for yourself.
Myth #4: Dansko only makes shoes for women.
Dansko offers a line of clogs and other work-style shoes for men that offer great all-day support and durability. The Walker is one of our best-selling models, and it even outsells many women's styles. Think guys don't wear clogs? Well, thousands of chefs, doctors, teachers, and other professionals may disagree with you. I actually own two pairs of Pro XPs myself, and they are some of the most supportive, comfortable shoes that I have worn. So, gentlemen, are you man enough to take on a Dansko clog?!
Myth #5: Dansko is just another big shoe conglomerate owned by some far-off unseen entity.
Dansko is very much a home-grown American success story. Pennsylvania-based husband and wife team Peter Kjellerup and Mandy Cabot formed Dansko 23 years ago after visiting Europe and falling in love with European clog designs. Dansko has grown to currently employ about 180 people in its Pennsylvania headquarters and warehouse. In 2012, the company proudly announced that they had become 100% employee-owned, and Mandy has served as CEO for many years. What's more, Dansko has been a leader in environmental sustainability as well. Both its headquarters building and warehouse are LEED Gold Certified.
If you would like to inquire further about Dansko shoes, please call our customer service experts at 1-800-336-6657 or visit one of our 10 stores.
With Birkenstocks being the hot Holiday shoes this year, here are some frequently asked questions about fit and care on your favorite healthy footwear brand along with our most time-tested answers.
Q: How big should I size my Birkenstocks? Should I leave extra space behind my heel?
A: Birkenstock fit can be a very personal thing, as some wearers like to size a little big and leave extra space behind the heel and in front of the toes while others like to size slightly smaller so that their heel sits flush in the heel cup and their toes sit just behind the front lip of the sandal. When considering the length of your Birkenstocks, probably the most important factor to consider is where the arches of the sandals hit your feet. In order to optimize the great support of your Birkenstocks, we recommend sizing so that your heel sits flush in the heel cup and your toes approach but do not touch the front lip. This type of fit will allow the arches of the footbed and the toe bar (the little bump that sits under your toes) to have a better chance of fitting you properly. Of course, Birkenstock fit and support can also be greatly affected by how snugly you fit the straps. Fit the straps too loose, and your foot will slide around more on the footbed, affecting arch placement, support, and comfort. We have found over the years that it is best to have a relatively snug fit on your Birk straps, and the key is finding a happy medium between stability on the foot and comfort.
Q: Do soft footbed models fit differently than regular footbed models?
A: The shape and size of a soft footbed is exactly the same as a regular (firm) footbed, however the cushier nature of the soft footbed can allow your foot to expand a bit more than a regular footbed. If you are right at the upper limit of a size in a regular footbed, it is worth considering going up one size in a soft footbed.
Q: I have medium-width feet, but all I see are narrow sizes available in the sandal that I want. Can I wear a narrow in Birkenstock?
A: In wider-fitting styles such as the Arizona, Florida, and Milano, there is a good chance that you'll fit into a narrow even if you have medium-width feet. A narrow in these styles can fit a women's A-C width and a men's B-D width. This is slightly different from what Birkenstock suggests, but after 30 years of fitting their shoes, this is our best estimate of how narrows fit in the Arizona, Florida, and Milano styles.
Q: I have narrow feet. Do some Birkenstocks run narrower than others?
A: Yes, the Gizeh and Mayari styles tend to run narrower than many other Birk sandals. As a matter of fact, many of our customers  that require a narrow width in a wider-fitting style like the Arizona will actually fit into the regular width in the Gizeh and Mayari styles.
Q: I have a pair of Gizeh sandals, and the toe post is hurting the area between my toes. What should I do?
A: Though this is not a common problem, when the toe post (the piece of material that sits between your big toe and second toe) on a Gizeh sandal causes discomfort it often occurs because the adjustable strap that goes over the instep is too loose, and the foot is sliding forward in the sandal This forward sliding causes the webbing of the toes to bang into the toe post. If you are having this problem, start by completely opening the adjustable strap of your Gizeh sandals. Slide your foot into the sandal, and make sure to slide your heel all the way back so that it is sitting flush in the heel cup of the sandal. Then, from a standing (weighted) position, and making sure that your heel is still all the way back in the sandal, pull the adjustable strap closed over the instep of your foot. Make sure that the strap is snug while you are in a standing position. A snug instep strap will help to better hold your foot back in the sandal and can prevent your foot from sliding forward and banging into the toe post. If, after trying this technique, you are still experiencing discomfort, try wrapping the toe post with a softer material such as medical tape or a thin foam.
Q: I noticed that there are care products available for Birkenstocks. Does this mean that I need to spend a lot of time taking care of my Birks?
A: The care products that are available from Birkenstocks are all designed to prolong the life of your shoes and enhance your enjoyment. We have seen some customers wear their Birks for years without ever doing anything to them, and they are happy with their shoes. Obviously, the more you care for your shoes, the more life you'll get out of them, so the choice is really up to you. Probably the most important care process that we can recommend is using Cork Sealer regularly to help seal the area of exposed cork on your sandals/shoes. Regular sealing (once every few months if you wear the shoes every day) can greatly prolong the life of the soles of your shoes and can ensure long lasting support from the cork footbed.
Q: My Birkenstocks have developed dark brown spots on the footbeds. How do I remove these spots?
A: The Birkenstock Deluxe Shoe Care Kit comes with, among other very useful items, a Multi-Purpose Cleaning Tool and a bottle of Footbed Cleaner/Refresher. When used regularly, these items can help keep the footbeds of your Birks looking new and odor free. Another useful trick, for those of you who may have older Birks that have accumulated a lot of foot sweat and oils, is to use a small piece of fine grit sandpaper and literally sand the darkness off of the footbeds. You'll want to experiment with how hard and how much you need to sand, and you don't want to go overboard and eat away too much from the leather. When done properly this process can remove much of the darkness from the insoles and can revive the natural knap of the leather as well.
Q: Can Birkenstocks get wet?
A: While it is best to avoid prolonged exposure to rain and other moisture, Birkenstocks can get wet on occasion and still last for years with proper care. Many of our customers think that their Birkenstocks will get ruined if they get wet once or twice in the rain, and this is generally not the case. If you do get caught in the rain in your Birks, fear not! Simply dry them in a shaded place away from any heat sources. If you have clogs or shoes, insert wadded newspapers into the shoes, and the paper will help soak up the extra moisture. Do not dry your Birks near a stove, fireplace, radiator, or any other heat source. This can cause shrinkage in the soles. After your Birks have dried, apply Birkenstock Stain and Water Repellent (available as part of the Deluxe Shoe Care Kit).
We hope this helps! Happy Birkenstocking!
by Matt LaBarge, 12/12/14
With the crush of Black Friday and Cyber Monday firmly behind us, we here at Happy Feet Plus have settled into the final push before the big day in a few weeks.
But the holiday shopping season is a little bit different with us. With a focus on health, relaxation, and downright tranquility, our in-store experiences are anything but uncomfortable, especially this time of year. We take pride in helping busy shoppers who drag into our stores at the ends of long shopping days. After telling us about their foot, knee, or back pain and getting a professional foot scan, these customers are then able to happily take a load off of their tired feet and sit back and relax while we serve up some of the healthiest and most revitalizing shoes that they've ever tried on. It is not uncommon for our customers to purposely wait until the end of their long, tiring days to stop in to see us, and many of them share their enthusiasm for our relaxing, hassle-free shopping environments.
Of course, for those of you who live outside of the Tampa Bay area, we also strive to provide a helpful, friendly online shopping experience as well. When you call our customer service department you'll often speak with the same one or two knowledgeable individuals, and over time we take pride in forming great relationships with our online and telephone customers. And you'll rarely, if ever, have to wait on hold more than a couple of minutes to speak with us.
And call us a bit old-fashioned, but we are not (and, to the best of my knowledge, will never be) open on Thanksgiving. We believe that employees who are allowed to live healthy and productive lives away from work will lead healthier and more productive work lives.
Overall, our goal here at Happy Feet Plus is to help people improve their lives through better foot health. It is in knowing that we are improving the lives of others that we take tremendous pride in what we do.
In planning this week's blog, I was tempted to write yet another cautionary tale of Black Friday horror stories, but who wants more of that? Granted, it is downright challenging to find inspirational Black Friday stories (and by inspirational, I don't mean this guy). Google "inspirational" or "happy" and "Black Friday" together, and you don't find much other than the expected tales of woe. So, Happy Feeters, here is a challenge for you: share your happy holiday shopping stories with us! If you have a positive Black Friday, Cyber Monday, or other shopping experience please send us the details and we'll pass it along. Let's generate some healing and goodwill and help, at least a little, to turn Black Friday and the whole holiday shopping extravaganza back into a positive pastime once again.
In her 2001 book entitled Wanderlust: A History of Walking, author Rebecca Solnit notes, "walking still covers the ground between cars and buildings and the short distances within the latter, but walking as a cultural activity, as a pleasure, as travel, as a way of getting around, is fading, and with it goes an ancient and profound relationship between body, world, and imagination." Solnit is speaking to the fact that over the past two decades, Americans are not only walking less than they ever have before, but we are also falling behind many other developed nations in the amount that we walk each day. A 2003 pedometer study that was published in Medicine & Science in Sports & Exercise found that the average person in the United States took 5,117 steps per day compared to 7,168 steps for Japan, 9,650 for Switzerland, and 9,695 for citizens of western Australia. While this study is now over 11 years old, the news has not gotten much better since, and it means that the average American only takes about half of the 10,000 steps per day that is now a nearly universally accepted standard of health.
The reasons given in studies across academia and the web for the decline in American walking range from a lack of pedestrian-friendly areas in many parts of the country to an overuse of the automobile to a social stigma surrounding those who use their feet to get from place to place. On the automobile side, the National Household Travel Survey showed that the number of vehicle trips a person took and the miles they traveled per day rose from 2.32 trips and 20.64 miles in 1969 to 3.35 and 32.73 in 2001. On the social stigma side, when is the last time that you were driving down a busy, non-pedestrian friendly street, and you saw someone walking? Any stereotypes pop into your head about that person, even for a split-second? Here at our home in Pinellas County, FL, walkers in congested areas are often viewed with an air of skepticism, and there is a stigma attached to their bipedal efforts that causes many non-walkers to wonder why the pedestrians are walking in the first place. Is it because they can't afford a car? Did they do something wrong and lose their license? And so on…
So, why walk? We have cars, taxis, ride shares, buses, and countless other less energy expending forms of transport, and many of us do live in pedestrian-unfriendly areas. In his excellent 2012 slate.com article entitled The Crisis in American Walking: How We got Off the Beaten Path, Tom Vanderbilt declares:
For walking is the ultimate "mobile app." Here are just some of the benefits, physical, cognitive and otherwise, that it bestows: Walking six miles a week was associated with a lower risk of Alzheimer's (and I'm not just talking about walking in the "Walk to End Alzheimers"); walking can help improve your child's academic performance; make you smarter; reduce depression; lower blood pressure; even raise one's self-esteem." And, most important, though perhaps least appreciated in the modern age, walking is the only travel mode that gets you from Point A to Point B on your own steam, with no additional equipment or fuel required, from the wobbly threshold of toddlerhood to the wobbly cusp of senility.
Aside from the obvious physical and psychological benefits of walking, countless other authors have waxed poetic about the simple act of stepping outside of one's box of creature comforts and discovering the world on foot. In his 1996 book A Walk in the Woods, Bill Bryson notes, upon the start of his planned hike of the Appalachian Trail, "To my surprise, I felt a certain springy keenness. I was ready to hike. I had waited months for this day, after all, even if it had been mostly with foreboding. I wanted to see what was out there. All over America today people would be dragging themselves to work, stuck in traffic jams, wreathed in exhaust smoke. I was going for a walk in the woods. I was more than ready for this."
Having grown up within a couple of hours of both the Catskills and Adirondacks in upstate New York and spending days at a time in the woods, I could identify with Bryson's sense of excitement as he set out on his great journey. But, and here's the important part, you don't have to grow up tramping around in nature to appreciate the simple, timeless act of walking from point A to point B. I am a middle-aged, busy, married father now, and I rarely, if ever, have time to set off down the trail in my favorite wilderness areas anymore. So I have adapted, and my walking has become more suburban in scope, but that hasn't changed how much I love it. I still feel a sense of curiosity when leading my dog through some neighborhood that I have never explored before. And now, without all of the hills, we simply walk at a faster clip to keep the heart rate up. Walking is my time for thinking. I am away from work, out of the house, and not burdened by any real-life concerns other than simply putting one foot in front of the other and enjoying my time out under the stars (I frequently walk at night). Even better are the times when I can walk with my wife and four-year-old son, as our rambles frequently become an education in sticks, pine cones, superheroes, and the other magical stuff of boyhood dreams.
Even in Pinellas County, with its nearly one million inhabitants, we still have fine, safe places to walk: the Pinellas Trail, a few dozen local and state parks, hundreds of winding, friendly suburban neighborhoods, and of course our world-class beaches.
So, this weekend, when you're contemplating plopping on the couch for a few more hours of TV, take a walk instead. Put on a pair of good supportive shoes (I think I may know of a place where you can find some!) and prepare yourself to feel invigorated, happier, and generally better all over. Putting one foot in front of the other may not only change your perspective on yourself, it may also change your perspective on your little corner of the world as well.
By Matt LaBarge, 11/14/14
The level of love for Birkenstocks has risen to new heights in 2014. They have been rediscovered by the fashion world, and sales are off the charts at upscale and healthy shoe retailers around the country. So, this week I figured that I would be quiet for once and share what others have had to say recently about this iconic brand…
"So, what's so special about Birkenstocks? The German orthopedic sandals embody the rare and sought after combination of comfortable and chic. They provide the support needed for a long day of walking, but their simple style and variety of colors pair nicely with anything from a sundress to a pair of ripped boyfriend jeans. There are almost no rules when it comes to Birkenstocks; wear them to the beach with a sundress and bikini, pair them with some ripped boyfriend jeans and a leather jacket to grab a cup of coffee, or slip them on over cozy wool socks, throw on a chunky sweater and you've got yourself the perfect lazy Sunday outfit." – thefashioncoverage.com, 10/19/14
"New Yorkers are sure putting the 'stock' in Birkenstock. Long beloved by the granola-munching Bay Area set, the practical German sandal brand has enjoyed a steadily building surge in popularity on the Hudson ever since Céline showed a fur-lined version at its spring 2013 show." – NY Times On the Runway Blog, 8/14/14
"'We've photographed them a ton—with boyfriend jeans, Chanel tweeds, and black work dresses—for the past six months,' says Eva Chen, editor-in-chief of the shopping magazine Lucky, who double-checks each issue to make sure Birks don't appear more than once. 'The last seven years in fashion have been all about the statement shoe, a beautiful, spindly heel that's not comfortable.' The antidote, it turns out, is buckled and cushioned…" – Bloomberg Businessweek, 7/26/14
"This summer's sole heir to the footwear throne is, without doubt, the flat sandal. Be it pool slider, strappy, jelly or gladiator, the once considered 'lowly' alternative to the much celebrated heel is now at the cornerstone of every summer outfit. And we're not just talking in the day time, at a festival or at the beach. The flat sandal is now a very real fashion choice for date night, dinner with the girls and, hallelujah, for long sessions on the dance floor." – Glamour, 6/2/14
"It appears all those normcorers were on to something. Birkenstocks' contoured footbed actually creates a healthy walking environment for your feet. And the metallic finish on these is anything but granola-y." - Bustle.com, 5/30/14
"This spring, thanks to their everlasting comfort, and the breezy, carefree attitude of the runways, Birkenstocks are bigger than ever. The brand hit the New York runways with Trina Turk and Houghton, and collaborated with the king of Japanese cool, Yohji Yamamoto.  The cool kids, Isabel Marant and Riccardo Tisci, appropriated the classic style into their own versions. Whether original, or inspired, the sandal is now a bona fide Instagram star: hashtag #birkenstocks or #birkies, for short." – Fashion, 4/29/14
"'That silhouette was universally considered ugly,' says Vogue.com contributor Katherine Bernard. 'But Phoebe Philo's luxe reinterpretation of a Birkenstock got me thinking. It's like the most comfortable sandal in the world is having a stylish renaissance.' With its squishy cork footbed, roomy toe box, and thick buckled straps, the sturdy, sensible sole has been embraced by others besides Bernard. In fact, fashion editors in these very hallways have been bringing their secret love of the jolie-laide shoe into the light of day. 'I've been wearing them around the house forever, but recently I've taken fancier versions out into the world, too,' says Associate Accessories Editor Jorden Bickham. 'When my husband sees them, he says I'm lucky that we're already married, but honestly I think it's so much more sexy to be slightly underdressed, like you're not trying too hard.'" – Vogue, 7/29/13
…All of this being said, I fell for Birkenstocks again last year after a long (and painful) bout of plantar fasciitis. So, for now I'll stick to my high arch Birkenstock Bostons, because they give me all-day support, are super durable, and look good with a pair of jeans. For me, Birkenstocks are an old friend that eagerly awaits a trip to the office or a long walk at night, and I know that this friend will stick around with me long after the glare of the fashion world flashbulb has dimmed.
by: Matt LaBarge, 11/6/14
As we approach the busiest shopping season of the year, it is a good time to reflect on the idea of quality in consumer products. Studies in academia and across the web suggest that actual product quality and perceived quality, while closely tied, both rank near the top of the importance list, along with price, in the minds of consumers.
Over the past decade a few clothing and footwear companies have taken the idea of product quality to new levels. Some of these companies have begun offering their own in-house repair services to encourage customers to have damaged items fixed and reused instead of throwing them away. Still other companies have even gone so far as to begin to resell old, used items to encourage use by multiple people and even, in some cases, multiple generations. By setting aside traditional notions of discarding an item after it takes on a minimal amount of wear, these companies have infused their consumers with a sense of reuse/renew/recycle that speaks heavily to the product quality side of their business. The customers for these companies take pride in telling you the age of their jacket, for example, and in many cases, the older the better. As a consumer, wouldn't you place a high value on a product that could be repaired over and over again to look and feel nearly like new?
When I began my time as a Store Manager in the spring of 2013 at our Happy Feet Plus store in Clearwater, FL, I heard a lot of talk about this mythical hand-made German brand that we carried called Finn Comfort. I had sold dozens of brands of shoes over my career to that point, but Finn had not been one of them. Then a customer walked into our store a few weeks into my time there, proudly holding his Finns and announcing that he just needed a resole, as he'd gotten his Finns from us in 1998. I was a bit skeptical, as the shoes looked to be no more than six months to a year old. The customer told me that he loved his Finns and that this would be his third resole since he purchased the shoes from us 15 years prior. He hadn't needed to do anything else to the shoes other than just the occasional polish. Again, I was skeptical, but I tried to keep an open mind. Then, over the next few months, many more Finn Comfort owners arrived at the store proudly carrying their shoes and telling us that they'd had them for five, eight, ten years or more. All these customers needed were replacement insoles or new outsoles for their shoes, which could both be had for less money than purchasing a new pair. And every Finn customer seemed to take a special pride in how long their shoes had lasted.
Like the clothing companies noted above, at Happy Feet Plus we also offer our own in-house repair service, and we have been expertly resoling and repairing Finn Comfort shoes and Birkenstocks for over 25 years. We believe in the products that we sell, but we also take pride in being able to take a cherished 15-year-old pair of Finns and make them look and feel like new. This practice reduces consumer waste, so it's easier on the planet, and it offers our customers the peace of mind that our hand-made German shoes last and last.
So, this holiday season, as you're shopping for your friends and loved ones, take a moment to consider the quality of the items that you're buying. Is it worth spending a little more for an item that may last four or five times as long? By purchasing for quality, you may just be creating another priceless experience.
-by Matt LaBarge 10/30/14
If you're like me, and you've ever marveled at the multi-hued array of locally owned shopping and dining choices that accompany a walk down Main Street in Dunedin or Safety Harbor, FL or places like Austin, TX, Burlington, VT, or Bellingham, WA, for that matter, then you have at least the beginnings of an appreciation for locally-owned, independent businesses. But while many of us can attest to the unique variety that local independents offer their respective communities, a slightly deeper look at the real economic effects that locally-owned businesses have on their surroundings can provide some real insight into their true value.
Building on its earlier studies of the impacts of local businesses in Austin, Chicago, and San Francisco, in 2008 the group Civic Economics conducted a study that focused on the Grand Rapids, MI metro area. The study found that if Grand Rapids residents were to shift just 10% of their yearly spending to locally-owned independent businesses, the resulting economic effect would generate over 1600 local jobs and put over $137 million back into the local economy. The population of the area of Kent County, MI that was covered by the study was about 770,000 at the time.
Let's stop here for a second. Many of you probably read the above statement about Grand Rapids, like I did at first, and thought, "There is no way that I can afford to spend an extra 10% every year just to support the local economy!" But, very importantly, you may notice that the study didn't imply that residents spend an extra 10% but instead simply shift 10% of what they already spend from non-local chains to local independents.
Now, if I may, let me throw a few more numbers at you…The population of Pinellas County, FL, where our Happy Feet Plus company began 29 years ago and continues to be based today, was roughly 921,000 in 2012. If we apply the findings of the Grand Rapids study to our home here in Pinellas County, a 10% shift in spending to local businesses by the residents of our county could mean the creation of over 1900 local jobs and an influx of over $163 million into the local economy.
If we move beyond Pinellas County and apply the Grand Rapids numbers to the entire Tampa Bay area, the result is nothing short of staggering. With its population of roughly 2.8 million, the Tampa Bay metro area could see over 5800 local jobs created and an influx of nearly $500 million into the local economy from a simple 10% shift to local spending by its residents.
But how does this happen? How does a shift to more local spending really generate more money in the local economy? The answer is simple. Dozens of local, regional, and state-level business studies conducted around the country over the past ten years have shown that, on average, for every $100 spent at a non-local chain, about $43 stays in the local economy, while for every $100 spent at a locally-owned, independent business, about $73 stays in the local economy.
The definition of "local" can vary based on the size and scope of the municipality in question, but most of the independent business organizations around the country define a "local" business as the following:
1)      A business that has its headquarters within the given local area and
2)      A business whose owners and employees reside in the given local area.
The Grand Rapids survey, notably, did not include publicly held firms whose headquarters were in the Grand Rapids area.  In many cases, the shareholders of publicly held firms live in other cities, states, or even other countries, thus making it less likely for them to directly contribute to the local economies where their businesses are headquartered.
While there are obvious economic benefits to buying local, many other benefits exist as well. Those additional benefits include things like the tendency of local businesses to offer more diversity of selection and their tendency to put less strain on local infrastructure and ecosystems. The case for buying local is summed up nicely in this document from Local First Vermont.
So, why do we care so much about local, independent businesses at Happy Feet Plus? Well, quite simply, we are, and always have been one.
If you've been on the "about us" page on our website at happyfeet.com, you may already know that our business started with a little kiosk in Tyrone Square Mall in St. Pete in 1985, and that we continue to run our business under the same ownership and just 20 minutes up the road from Tyrone Square in Largo, FL today. In keeping with another typical trait of local independents, our owners are quite easily accessible, as their desks sit exactly 50 feet from where I am typing this in our corporate offices. Our nine (soon to be ten) stores are all located within about an hour of the Tampa Bay area, and every year we participate in many community-based activities from fun runs to health benefit galas to the Pride Parade. In 2004, our Clearwater store, with its solar panels, native plants, and cistern for collecting water for irrigation and sewer use, became the first retail space in the country to receive LEED Gold Certification.  LEED, or Leadership in Energy and Environmental Design, is a nationally recognized building program administered by the U.S. Green Building Council that recognizes achievements and innovation in eco-friendly architectural design.  All of these things, from location and accessibility to community involvement to eco friendly store designs, we hope, contribute in some way to richer choices and richer lives for our employees, our customers, and our community.
And finally, if you're one of our many online customers, and you're reading this from, say, North Platte, Nebraska and wondering why if I am arguing in favor of local businesses you should care about a small footwear company from Largo, Florida, please remember that at some point you're fairly likely to be one of the 84 million visitors that Florida receives each year. When that day comes, rest assured that this local independent, like thousands of others in our area, is doing what it can to make its corner of the Sunshine State a little brighter.
Our Summer Solstice Sale is continuing on and you better hurry up and take advantage of this great offer!  How can you beat $10 off online purchases of all Birkenstock Sandals.  Also for all the Finn Comfort lovers out there we are offering a special promotion for a limited time only, when you purchase any pair of Finn Comfort Shoes, Sandals or Clogs and get yourself a FREE pair of socks
Interesting Facts:
Finn Comfort footwear provides serious support for your feet, as well as for your entire body. Finn Comfort uses premium quality leathers and natural cork and latex. Old world craftsmanship combined with orthopedic design produces exceptionally comfortable shoes, sandals and clogs.
Finn Comfort's Prevention Series is designed to help avert foot injuries by protecting your feet from friction and abrasion. The design and construction helps prevent simple problems from becoming more serious.